The 10th Annual World Beer Festival Raleigh
Saturday, April 11, 2015 – Moore Square Park, Downtown Raleigh
Sample unlimited 4-ounce pours from 250+ beers!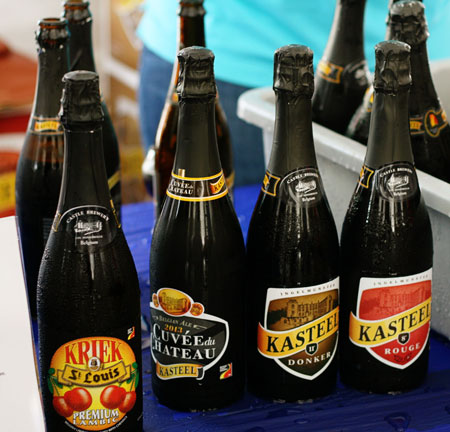 A festival within a festival! For the first time, the Belgian Bier Festival comes to Raleigh! It's your chance to experience an array of authentic Belgian ales under one tent.
The Belgian Bier Garden brings together a collection of blondes, dubbel, tripels, quads, lambics, gueuze, and more, direct from one of the most respected  beer countries in the world.
Belgium is home to some of the most sought-after beers in the world and regularly provides  inspiration for America's brewers. Experience the flavors of Belgian beer at the World Beer Festival and find a new favorite.  Each beer served has its own story, brewing technique and profile. This is your chance to taste the some of the best Belgium has to offer.
With the rest of the World Beer Festival around you, the intimate Belgian Bier Garden showcases the history and flavors of the art of Belgian brewing. The cost of the bier garden experience is included in your World Beer Festival ticket.
Belgian Beer Garden Beers:
Brasserie Dubuission
Cuvee des Trolls

Scaldis Peche Mel
St. Bernardus
Brasserie Caracole
Abbaye du Val Dieu
Westmalle Brewery 
Orval Brewery
Brasserie de Rochefort
Trappistes Rochefort 6
Trappistes Rochefort 8
Trappistes Rochefort 10
Verhaeghe Duchesse De Bourgogne
Brasserie Dupont
Order yours today, and get ready to travel around the world of beer.

Get ready for the Belgian Bier Festival. Visit these pages and learn about Belgium from expert writing in All About Beer Magazine.
Travel
Insider Tips for Drinking Beer in Belgium 
Eating, Cooking & Drinking in Flanders & Brussels
Exploring Belgium's Beautiful, Beery Guame
Styles
The Near-Perfect Belgian Dubbel
Belgian-Style Vs. Belgian Beer
Belgian Quadrupel and Strong Dark 
Take a look at some of the beers previously poured at the Belgian Bier Festival:
Brasserie Dubuisson, Belgium 
Dubuisson Pê

che Mel, Amber Ale with Peach 

Cuvee Des Trolls, Belgian Blonde
Brasserie Dupont, Belgium
Brouwerij Duvel Moortgat, Belgium
Duvel Moortgat, Belgian Strong Pale Ale
Duvel Tripel Hop, Belgian IPA
Brasserie d'Achouffe, Belgium
La Chouffe, Belgian Blonde
Mc Chouffe, Belgian Brown Ale
Houblon Chouffe, Belgian Tripel IPA
Brouwerij Liefmans, Belgium
Brewery Ommegang, Cooperstown, NY
Gnomegang, Blonde Ale
Abbey Ale, Belgian Dubbel
Hop House, Belgian style Pale Ale
Rare Vos, Amber Ale
Kasteel, Belgium 
Kasteel Rouge, Cheery Quadrupel
Kasteel Cuveé du Chateau, Quadrupel
Maredsous, Belgium
Brune, Belgian Dubbel
Tripel, Belgian Tripel