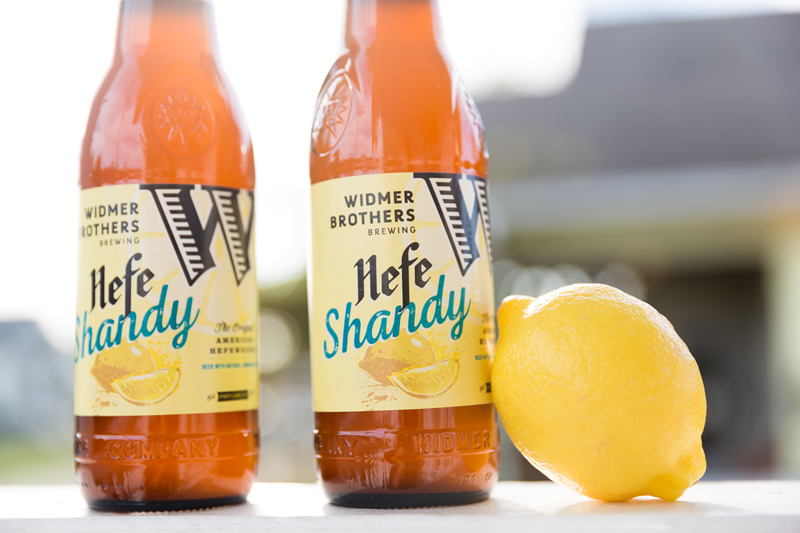 (Press Release)

PORTLAND, Ore.—Widmer Brothers Brewing today announced the release of its new summer seasonal offering, Hefe Shandy. Hefe Shandy pays homage to the brewery's flagship beer, Hefe, playing on the ritual of adding a lemon to the rim, which dates back to the creation of the beer in 1986.
"Hefe has been served with a lemon since the early days," said Rob Widmer, co-founder of Widmer Brothers Brewing. "The lemon on the rim of the glass has become a recognizable icon for Hefe fans in Oregon and across the country as Hefe's popularity has grown over the years. With Hefe Shandy, we're bringing the lemon ritual to life in a whole new way."
Hefe Shandy features the classic appearance and flavors of Hefe, but is brewed with the new hop varietal, Lemon Drop, and natural lemonade flavor. The result is a bright and refreshing wheat beer with heightened citrus aroma and flavor. Hefe Shandy was crafted with summertime in mind, and at 4.2 percent ABV, it is ideal for long, hot summer days and nights.
"We have been brewing Hefe for almost 30 years now and Hefe Shandy is a great complement to our flagship," said Kurt Widmer, co-founder of Widmer Brothers Brewing. "I lived in Germany before we started Widmer Brothers in 1984, and adding fruit juice or soda to beer to make shandies and radlers is quite common there. It is a great way to bring down the alcohol a bit and adds a bright, refreshing flavor. We feel like Hefe Shandy accomplishes just that, and we are excited to release it as our new summer seasonal."
This new addition to Widmer Brothers' seasonal line-up will be available across the country on draught, and in six- and 12-packs. Hefe Shandy can be found using the Widmer Brothers beer finder at widmerbrothers.com/find-beer.
About Hefe Shandy
Bright, refreshing and sessionable, Hefe Shandy is made for summer. The Original American Hefeweizen gets a bold, new citrusy aroma and flavor and lemon drop hops and natural lemonade flavor. Soak up the summer with Hefe Shandy.
MALTS: 2-Row Pale, Wheat
HOPS: Alchemy for bittering, and Lemon Drop for aroma
OG: 10.75 P
AE: 2.85 P
ABV: 4.2%
Color: 5 SRM
IBU: 12
Please visit www.widmerbrothers.com for more information about the brewery, or follow Widmer Brothers on Facebook for the latest news and happenings.
About Widmer Brothers Brewing
Widmer Brothers Brewing was founded in 1984 in Portland, Ore. Brothers Kurt and Rob Widmer, with help from their dad, Ray, helped lead the Pacific Northwest craft beer movement when they began brewing unique interpretations of traditional German beer styles. In 1986, Widmer Brothers Brewing introduced the original American-style Hefeweizen, which elevated the brewery to national acclaim. Since then, Hefe (pronounced: "hay-fa") has grown to become Oregon's favorite craft beer and the brewery has continued to push the boundaries, developing beers with an unapologetic, uncompromised commitment to innovation.
The brewery currently brews a variety of award-winning beers including Hefe, Upheaval IPA, Alchemy Pale Ale, Drop Top Amber Ale, a full seasonal lineup, and a series of limited-edition beers. For more information about Widmer Brothers Brewing, visit www.widmerbrothers.com.