If there's anything we've learned from National Geographic, it's that animals migrate south for the winter. But we're neither geese nor pronghorns. Furthermore, we are craft beer lovers, not lemmings. So why follow the herd? This winter, as the Arctic winds sweep across the northlands, embrace the glacial conditions and head for the higher latitudes. Besides, winter stands for barley wine and where are you going to find such a robust ale among the froufy cocktails in the Florida Keys? Put on your layer upon layer of fleece, down and a toque or two because here are near-tundra destinations to sidle up to the bar with Jack Frost.
As for beer exploration beyond city limits, Roberts notes that any trip away from Anchorage must be carefully considered and prepared for because 10 miles in any direction is wilderness.
Anchorage
Of the 15 breweries in "the last frontier" that constitute the Brewers Guild of Alaska, four are situated in Anchorage. Alaskan conditions make their work all the more grueling; just think of the distribution alone. (Alaska is one-fifth the size of the entire "Lower 48.") Resident for the last 30 years and beer scribe James "Dr. Fermento" Roberts can't hide the fact that Alaskan winters are, shall we say, cold and inhospitable. "Indeed, extended darkness and subzero temperatures can be a turn off," says Roberts, "but what better theater within which to enjoy heady, full-bodied winter brews that Alaska breweries seem to brew to order for a hugely devoted cadre of local beer lovers with their requisite heartier lifestyles?"
Plan to visit Anchorage over the third week into the New Year, as the Great Alaska Beer & Barley Wine Festival takes place January 14-15, 2011.
If you come here looking to visit the largest in-state brewery, Alaskan Brewing, to sample their multiple award-winning Smoked Porter fresh from the bright tanks, don't, since it's in Juneau, which is only accessible by air or water. But you are likely to find the beer when it's in season (starting in November) at Humpy's Great Alaskan Alehouse (610 W. 6th Ave.). It's been a downtown institution since 1994 and, says Roberts, boasts 52 taps "baiting your palate and excellent, reasonably priced pub grub. Don't miss it." He heartily recommends the Blackened Halibut Salad. "Its inherent spiciness begs for pairing with a big juicy IPA or perhaps one of the Belgian selections Humpy's is so famous for."
On the south side of town and the quieter side of Humpy's, there's also Firetap Alehouse (10950 O'Malley Centre Drive) with 36 taps dedicated to beers from the 49th state. And farther south is the Tap Root Café (1330 Huffman Road) in the boho community of Spenard. When distribution allows, look for offerings from Kodiak Island, Skagway, Haines, Homer, Baranof Island and St. Elias brewing companies. Stick around for some live music.
As for Anchorage's breweries, there's Midnight Sun, Glacier, Sleeping Lady and Moose's Tooth. Starting with Midnight Sun (8111 Dimond Hook Drive) in South Anchorage, you can sample their Belgian-style beers such as Panty Peeler Tripel and the wintery, Arctic twist on their IPA, CoHoHo IPA with brown sugar, honey and juniper berries, available only October through December. Their "Loft," the upstairs tasting room, is replete with food service and, as Roberts points out, "a following of groupies that live life to the extreme and find comfort in the brewery's matching crazy setup of extreme beers." Take home a bottle of Arctic Devil Barley Wine to give your friends back home a serious taste of Alaskan winter.
Speaking of barley wine, Dr. Fermento spills the beans that underneath Glacier Brewhouse (737 W. 5th Ave.), "upward of 50 different vintages of the big stuff is metered out a little at a time in unannounced intervals throughout the year. This is unless you happen to be up in December when Glacier features its years-running Twelve Days of Barleywine celebration that ends on our annual Winter Solstice [December 21]."
Behind Glacier and two blocks to the north is the Snow Goose Restaurant and Sleeping Lady Brewing Co. (717 W. 3rd Ave.). Urban Wilderness Pale Ale is their only beer that's not only on draft, but is canned in state. Roberts suggests, "This is a good place to explore some one-off specialty beers, but I generally choose to eat elsewhere."
Finally, the Moose's Tooth Pub and Pizzeria (3300 Old Seward Highway) is in midtown but the beer is produced off-site at the Moose's Tooth Brewery, which, alas, doesn't offer tours. Roberts says their beer trends malt-forward, but the "signature Fairweather IPA is a local sensation that's as tasty as it is somewhat inconsistent. It pairs oh-so-nicely with any of the pizzeria's fabulous, often eclectic pies."
As for beer exploration beyond city limits, Roberts notes that any trip away from Anchorage must be carefully considered and prepared for because 10 miles in any direction is wilderness, where winter travel (subzero temps, icy roads, whiteouts) immediately puts the driver and passengers into a survival situation. Having said that, 35 miles below Anchorage "is the small hamlet of Girdwood tucked back in an alcove against some massive faces of the Chugach Mountains." Here, Mt. Alyeska Ski Resort offers world-class skiing as well as Chair Five (5 Linblad St.) to toss back pints of primarily PacNorthwest brews including locals from the farthest northwest part of the U.S. A favorite of Fermz, as he's known colloquially, is the Tundra Burger, a blend of caribou and bison from nearby Indian Valley Meats. It pairs perfectly with a dark beer, which complements its gaminess.
As for accommodations, hopefully your heart isn't set on building an igloo. The first of two downtown options that Roberts suggests is The Captain Cook Hotel (939 W. 5th Ave.) with its "sweeping vistas of the entire Anchorage bowl [named because the Chugach mountains to the east make a sweeping arc, partially encircling the city], upscale rooms and top notch service. Stuffed bears and other Alaska animals dot the extensive lobby area, as do paintings of Captain Cook's discovery voyages in Alaska in the 1700s." On the more economic side, The Anchorage Hotel (330 E St.) is listed on the National Register of Historic Places. But on the whole, since visiting in the height of winter isn't exactly the high season for tourism, lodging is widely available, as are deals.
Montreal
It's tempting to only associate winter in Canada with hockey. Incidentally, the Montreal Canadiens were the last Canadian NHL team to win the Stanley Cup, but that was back in 1993. That's probably a softer spot than their amazing triple crème brie. Owing to its French settlers and the fact that French remains the official language (or as my Francophile grandmother snubs it, "Canadian French"), this city named after nearby Mount Royal is a charming, European-style city with ensuing culinary—and brewing—delights.
While visiting Montreal in February some years ago, the weatherman announced that the temperature that day would hit 40 degrees. Below! A little mental computation concluded that -40 Celsius happens to be -40 Fahrenheit. That's enough to freeze your Canucks off.
Katia Bouchard, the director of communications for Mondial de la Bière, assisted by the entire helpful staff there, listed which places are enjoyable while warm and underground, and which are an easy, five-minute walk from various metro stations to ensure receiving a frosty brew rather than frostbite. "This list is adapted" for those visiting in the harsh winter, she points out, "but know that there are a lot of other interesting breweries in Montreal to be discovered. And if it's too cold for you, you can always take a cab."
For Québécois, going underground is taken literally, thanks to the Underground City or RÉSO. This system of interconnected tunnels, complexes and metro stations in the downtown area protects you from having your nose hairs freeze and snap off, as they might should you venture outside. And the center of the metro system's four lines is the Berri-UQAM station, located sensibly by Rue Berri and Université du Québec à Montréal. From it there are three brewpubs within walking distance: Le Cheval Blanc (809 Ontario East), L'amère à Boire (2049 rue St-Denis) and, about a block away, Le Saint-Bock (1749 rue St-Denis).
Le Cheval Blanc was Montreal's first licensed brewpub, established in 1986. They brew a panoply of common styles as well as their Cassis, a sour wheat beer with black currants. Le Saint-Bock is on the small side and their house brews range from British-style ales to some heady, double-digit ABVs, like 13th Commandment barley wine and R.I.P., a 14.5 percent Russian imperial porter, that are perfect for fending off the season. L'amère à Boire specializes in sessionable German and Eastern European styles so they are heavy on the lagers.
For more brewpub action, metro rides away from Berri-UQAM are required, including a pair that are just off the orange line. From the Laurier station, the famed Brasserie Dieu du Ciel (29 Laurier West) is a 10-minute walk. While their Peche Mortel (coffee stout) and Aphrodisiaque (chocolate-vanilla stout and bronze medalist at last year's Mondial de la Bière's beer consumer's contest) are always pleasers, look for seasonal offerings such as Snow White (white cinnamon and cloves) and Winter Solstice Barley Wine, each topping 9 percent.
No trip to Montreal is complete without hitting Schwartz's Deli (3895 Boulevard Saint Laurent) for a smoked meat sandwich. Even if it's freezing out, brave the 10-minute walk from the Sherbrooke station on the orange line for the only sando I dare call better than a pastrami from Katz's in NYC or Brent's in L.A.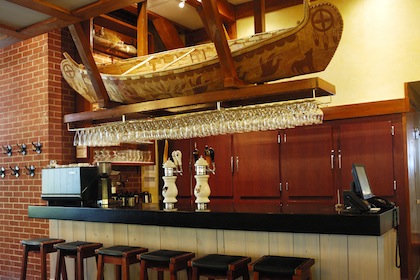 Sampling your way through Montreal's winter warmers necessitates getting some sustenance and Bouchard proposes the Fourquet Fourchette (265 rue Saint-Antoine Ouest), centrally located between the business district and tourist-oriented Old Montreal. The restaurant can be accessed from the convention center—the Palais des Congrès—at the Places d'Armes station on the orange line, without ever having to step outside. "Fourquet" is the French word for mashing rake or paddle and it speaks to their cuisine de la bière, focusing on local ingredients including actual wort supplied by Unibroue. Remember that Unibroue is based a mere 20 miles, er, 30 kilometers away, which means that beers such as La Fin du Monde are local.
Once a full day's bière touring has tuckered you out, fall into your cozy room at either a top hotel such as Auberge Bonaparte (447 Saint-François-Xavier) with considerable off-season rates starting at $145 Canadian (the exchange rate only saves mere pennies on the dollar these days) or, just a kilometer across Old Montreal (one metro stop apart), the quaint B&B Auberge Bonsecours (353 St-Paul) with rooms renting for $145. One perk about staying here by the Bonsecours Market is that there is an ice skating rink directly outside all winter long.
Bouchard's other top recommendation, Bières et Compagnie (4350 rue Saint-Denis) is located near the Mont Royal station. Not only does it boast an impressive selection of draft and bottled beers—heavy on the locals—the menu denotes which dishes incorporate beer. Beer-braised elk? Mai oui!
Then again, if you're just looking for a native treat to soak up the booze, from the same metro station head to La Banquise (994 rue Rachel Est). Bouchard swears it is "the place to eat poutine," poutine being a snack (or a meal) of French fries, melted cheese curds and gravy. Keep in mind that bars here tend to close at 3 a.m. and La Banquise is open 24 hours. Should you wake up and the poutine has worn off but the beer hasn't, Bouchard would have you head to Boccacinos (1251 McGill College) for breakfast. Take the green line to the McGill station and stay underground with the McGill students, since the restaurant is in the adjoining Eaton Center.
Before heading home, whether that's across the Great White North or heading south across the border to the U.S., visit the Atwater Market by the green line's Lionel-Groulx station. A can't-miss destination in the warm summer and spring, one of the vendors here, Fromagerie Atwater (134 rue Atwater), is a great destination in winter for local cheeses and bottles of beer to take a taste of Montreal back home.
Twin Cities
The 2010 National Homebrewers Conference (NHC) took place in a suburb of Minneapolis, shining a light on the north Midwest's burgeoning beer culture. All very well and good during the warm summer months, but how does one go about experiencing it during the frigid winters, when little light shines at all? Winter here averages 10 degrees, meaning that's warm by half the season's standards, so to avoid venturing outside very long, each side of the Twin Cities (Minneapolis west of the Mississippi River, Saint Paul to the east) features a skyway. The one in downtown Minneapolis connects a total of 69 blocks, and collectively they run for some 13 miles.
Today, Summit has long replaced Hamm's as the beer that made Saint Paul famous. Kristen England, co-organizer of this year's NHC and member of the Saint Paul Home Brewers Club, renowned for churning out some of the best meads in the country and several Meadmaker of the Year honorees, says that "The top two beer bars in the Twin Cities are a block from each other," but alas, are not on the skyway system. The Happy Gnome (498 Selby Ave.) "has a larger selection of U.S.-made stuff with a much more muckety-muck feel and more spendy." Here you'll find taps from local breweries including Flat Earth and the new Fulton Brewing. The Muddy Pig (162 Dale St.) offers a "more European feel but still with a very good amount local stuff. They usually have something like five Summits on tap at a time."
To explore the Minneapolis side, use the LRT (light rail transit). It shuttles passengers from the airport south to the Mall of America or north to Minneapolis. It runs along 5th Street once into the city. England says there are two primary stops for visitors. "The first is Nicolett Mall and you can get into the skyway there. The second is at the Warehouse Station on 1st Avenue." Two blocks south is the Ugly Mug (106 N. Third St.). England mentions they have "pretty good food and 20 taps or so" and if you're not local or from Chicago, it's your first best bet for getting a pint of Surly Furious IPA.
Hopping into the skyway, which primarily runs along Hennepin and 1st Avenue, will keep you warm. On the south end of Hennepin is Mackenzies (918 Hennepin Ave.). Among their 20 taps, you'll find Summit IPA and some Surly, as well as other Midwestern taps from Two Brothers, Founders and Bells, which, according to England, makes it "the perfect place if you're hitting a show at one of the three big theaters next door." Alas, you can't see bands that put Minneapolis on the map like the Replacements, Hüsker Dü, Prince, or even, for that matter, Soul Asylum, but it's still a hotbed of musical talent.
Eastward to Nicolett Avenue, another major artery, no cars are allowed—just buses and bikes—so it's heavy on the happening. "Lots of stuff, shopping mostly," says England, who mentions that most of the fanciest restaurants are near it ("again, muckety-muck"). The Black Forest Inn (1 East 26th St. on the mall) proffers traditional German fare for those nights you need to lay the foundation with spaetzle. Otherwise, "a good set of fish 'n' chips at Brit's [1110 Nicolett Mall] is always a good choice." Though, to be honest, Brit's is a better warm-weather destination, with its own ginormous English garden that includes rooftop lawn bowling!
Accomodation-wise, though I'm reluctant to suggest staying at chain hotels, the W Hotel (821 Marquette Ave.) is housed in the Foshay Building, completed in 1929 as the then-tallest skyscraper west of the Mississippi. Centrally located and connected to the skyway, it's also home to Manny's Steakhouse, which serves dry-aged beef. Come hungry and ready to spend—the banana split alone is $22.
Finally, before heading home, there are two distinctly Minneapolis things to try. The first being a Juicy Lucy (if you get it at the 5-8 Club) or a Jucy Lucy (if you try it from Matt's Bar). Either way, a Lucy is really just a cheeseburger, but with the cheese inside the patty. They put the cheese in it! Each joint claims to have created it. The 5-8 Club (5800 Cedar Ave. at 58th St.) makes their half-pound burger for only $5.50. Matt's Bar (3500 Cedar Ave. at 35th St.) is more stripped-down and it shows, in that they charge $4.95. But you're apt to find versions of Lucys all over.
The other thing to partake of in the Twin Cities, where homebrewers reign supreme as mead and cider makers, is Crispin Cider, based in Minneapolis. England says, "You definitely have to try their Honeycrisp; it's is a must-try and, point short, most wives that come around aren't the biggest beer nerds."