All About Beer Magazine delivers the best journalism, content and perspective for the global beer scene. Headquartered in Durham, NC, the company publishes six editions of the magazine each year, and runs numerous World Beer Festivals and special events. Our staff is comprised of experts, geeks and nomads who share one thing in common – we love beer.
EDITORIAL STAFF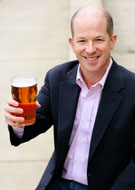 Chris Rice
President & Publisher
[email protected]
@ricech
Long ago, Chris founded one of North Carolina's first and leading breweries in Chapel Hill, North Carolina. Then he advised another successfully in Raleigh. Somewhere in there he picked up an MBA from the University of North Carolina, which really only gave him more standing to say, "Go Tar Heels!" Chris enjoys seeing people experience beer—it's not hard to enjoy, and once it happens, well, that's a happy place. As President, he works on creating and improving all the ways that All About Beer Magazine can help beer lovers experience craft beer.