Travel Travel Features

New Suds Under the Sun
All About Beer Magazine
-
Volume 38
,
Issue 1
March 1, 2017
I live in a part of Portland, Oregon, so riddled with breweries that three opened mere blocks apart within a span of eight days—Scout Beer, Mt Tabor Brewing and Wayfinder Beer—bringing the brewery population in a one-mile radius to 13. But la-di-da, Portland's gotta lotta breweries. With the Brewers Association's year-end announcement that just before the clock struck 2017, the United States supported 5,005 breweries, for beer lovers plotting a trip to experience some of that growth, check out these destinations that have recently added several new players. Some, like Fredericksburg, Virginia, and Cedar Rapids, Iowa, barely registered as blips on the American beer map in 2015, while others, like Sacramento, California, were chugging along at decent clips before but are now teeming.

Fredericksburg, Virginia
Situated 50 miles from the White House and Trump International Hotel in Washington D.C., this Northern Virginia city is home to fewer than 30,000 residents and is the purported birthplace of the rock 'n' roll power chord. It's now home to five breweries that have opened since 2015, creating a new 10-mile trail. Because I want to go in geographic order, let's start with a brewery on the verge of opening: 6 Bears and a Goat Brewing Co. (1140 International Parkway). The seven founders are all retired servicemen and women with a combined 140 years in the Coast Guard and Navy. They will offer kinda-classic styles such as a Rye IPA and Red IPA.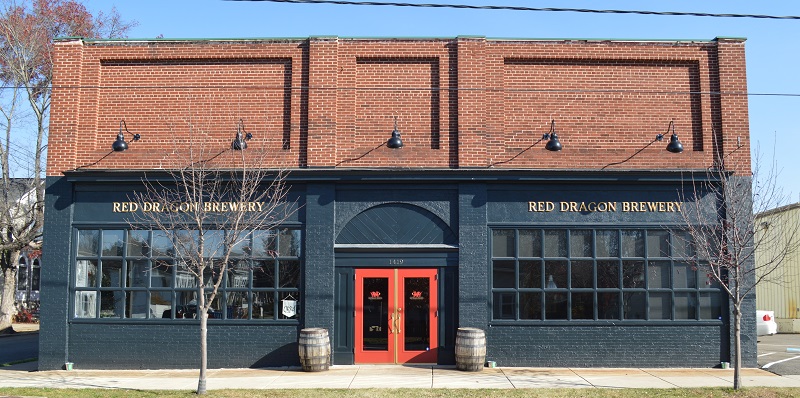 Heading southeast, a cluster begins to form, starting with Red Dragon Brewery (1419 Princess Anne St.), named for the creature adorning the flag of Wales. The brewery opened in the middle of last year, and taproom patrons can drink their way across the isles via Daffodil Welsh Ale (a 4% session golden ale), St. Andrew's Scotch Ale (a 9.3% wee heavy) and a true 3% English Mild. A short walk parallel to the Rappahannock River leads to Spencer Devon Brewing (106 George St.). Try the Lauck's Island West Coast IPA dripping with citrusy notes from Equinox and Centennial hops or the lemony-fresh Market Square Kettle-Sour IPA. And while the beers smell great, word is, so do the burgers—and the crunchy Cuban rolls filled with Virginia ham, of course—at this farm-to-table pub.
Two and a half miles farther, there's the new Adventure Brewing Co. (3300 Dill Smith Drive), which is to say it's the new Adventure-South location with a production brewery as the companion to the original, which opened way back in 2014, that still operates a pilot system. Adventure-South, incidentally, moved into Blue and Gray Brewing's space after Adventure bought it (but you can still enjoy Blue & Gray Classic Lager). Expedition IPA—the first canned beer from these parts—is exceptionally popular. For those with more, uh, adventurous palates, look for experimental offerings like Burley Viking spiced with thyme, coriander and lavender. Finally, Maltese Brewing Co. (11047 Pierson Drive) is a nanobrewery with a tasting room started by a pair of firefighters who'd spent years homebrewing. That explains names like Fire Wife Wheat (in the vein of American hefeweizens) and S'mores (a sweet stout designed to pair with fire pits and roasted 'mallows).
Cedar Rapids, Iowa
Think Iowa and you're more likely to think "American Gothic" (painted by Iowan Grant Wood) than American-style IPA. Which is fine since the Great American Beer Festival medals now hanging in Cedar Rapids are for darker, maltier beers anyway. Since Lion Bridge Brewing Co. (59 16th Ave. SW) opened in 2014, it has earned four medals, including two for Workman's Compensation, an English-syle mild that, even in this era, is the bestseller. Another was for GAZPROM, a Russian-style imperial stout made with local maple syrup. (Take that, Vermont.) Lion Bridge's Quinton McClain, a Cedar Rapids native, attributes the boom to a good-sized metro population of 180,000, increased interest in craft everything, and "close proximity for tourism to other areas experiencing a boom," wherein he lists Minneapolis, Chicago, St. Louis and Oklahoma City, as well as the silver lining of the tragic flood of 2008: resurgence in development of mixed-use buildings. Lion Bridge is located in a historic grocery.
It's less than a mile walk to Iowa Brewing Co. (708 3rd St. SE) on the other side of the Cedar River. You won't find a kitchen at this production brewery's tasting room, but you will find food trucks parked outside. Inside, you'll want to find Tragedy of the Common, a 4.9% warm-fermented lager in the vein of Anchor Steam. Though amber in color, it took silver last year at GABF. The brewery opened in 2015, as did The Quarter Barrel Arcade & Brewery (616 2nd Ave. SE) half a mile away. As the name implies, it offers a funfest's worth of vintage arcade consoles (I'm not even sure if, in this era, there are any modern arcade consoles) and a bank of pinball machines. Beerwise, Quarter Barrel is all over the map, literally. You'll find renditions of a Düsseldorf altbier, a Dortmunder export lager, a Münchener dunkel, an Irish red, English bitter, Cascadian dark ale for those who need something like an IPA and even a Dutch-style kuitbier. It's tough to know what these beers tasted like hundreds of years ago in The Netherlands, but this beer, though featuring oats, is for the malt heads.
There are other new beer makers in the area, such as Another Road Brewing (631 9th St.) in Cedar Rapids' neighboring burb of Marion five miles out—the Pulpfree IPA nicely emulates the turbid, tropical IPAs making New England famous anew—and Kickshaw Barrel Works from migrating brewer Bill Heinrich. His Pipo oak-aged golden with local watermelons has already made a big splash. And Cedar Rapids isn't done blowing up. According to McClain, the area "will most likely reach 10-11 [breweries] by the end of 2017." Looks like it's actually time to put Cedar Rapids Beer Week (second week of May) on the calendar.

Sacramento, California
Climbing to nearly a dozen is impressive, but sometimes a boom can occur in an already thriving scene. In the Golden State's capital, according to Rick Sellers at Auburn Alehouse in the Sacramento Metro, there's no end to the growth in sight. "We're over 70 within 50 miles of the capital now." It began with Rubicon Brewing Co. (2004 Capitol Ave.) in 1987 (and still the city's most GABF-decorated brewery by far), but let's look at the last couple of years. For this cluster of four upstarts, they span nearly 25 miles, so, in true Cali fashion, they're not walkable.
Start with one that's just a disk's throw from the state capitol building, Big Stump Brewing Co. (1716 L St.). Sacramento was once known as the City of Trees, hence the current stump moniker. It's also why this brand-new, kid- and dog-friendly brewery makes Tree Town IPA, a 5.5% beer with passion fruit and grapefruit notes, and then one-ups that with Big Stump IIPA at 7.5%, which branches out into pine needle and pineapple flavors.
From there, Sactown Union Brewery (1210 66th St., Unit B) lies nearly five miles east. Yet the real journey is found in the glasses. In addition to brewing up myriad regional styles of IPAs, there's #Kölsch Köln-style ale, a Mexican-style lager called El Campeon del Campesino brewed with tamarind, as well as Shirako, dubbed a wood-aged Japanese-style blonde ale. Sactown takes koji sake mold and ages it in rum barrels for good measure. Next up, proving stumps aren't the only thing Sactown does bigly, Big Sexy Brewing Co. (5861 88th St., Suite 800) opened last summer. The repurposed pallets as furniture and mason jars as lighting fixtures are a little sexy, but it's the beers that do the heavy lifting. Hoppy little numbers aside, there's Tricky Ricky (a caramel-toffee-esque porter) and Daytime-ish Blonde. But for those of two minds, order a 5149, which is a yin-yanglike blend of the two and named for folks who are of two minds or half-crazy. (Van Halen fans learned 5150 is the police code for someone full-on crazy who needs to be involuntarily locked up.)
Continuing eastward, Rancho Cordova is very much part of Sacramento except for that it incorporated in 2003. There, Claimstake Brewing Co. (11366 Monier Park Place) has achieved its mission by striking gold. It's become a destination brewery as fans love seeing what kinds of IPAs they'll find on the chalkboard with each passing visit. The beers range in strength from sessionable to imperial, and hops are selected from global hop-growing regions (Hallertau, Tasmania and the good ol' Pacific Northwest). A couple of pints and a brick-oven-baked pizza from out back make this great for 21st-century miners.
And any day now, if you find yourself in Rancho Cordova, Fort Rock Brewing (12401 Folsom Blvd.) will open its doors a block from the Nimbus Dam Rec Area on the American River, in a retail block already featuring the Nimbus Winery, for those who can't decide between pints or pinots.
---
Brian Yaeger
Brian Yaeger is the author of Red, White, and Brew: An American Beer Odyssey and Oregon Breweries.