Trumer Pils
March 13, 2017
Trumer Brauerei
Trumer Pils
Berkeley, California
Style: German-Style Pilsner
ABV: 4.9%
Newly canned, Trumer Pils is brewed with Saaz and Austrian hops.
---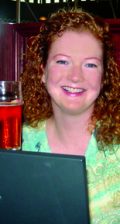 It's been a while since I've enjoyed a Trumer in the de rigueur green glass bottle, and when I did, I was lucky enough to get my hands on some fresh bottles—despite the occasional scuttlebutt about skunky bottles here and there. So I was pretty stoked to see the lovely, balanced, German-style pilsner showing up in cans! Trumer Pils in cans is exactly what you would expect: fresh, lemony herbal hop notes, a medium body, nice effervescence and a crisp, dry finish. Thanks to the cans, a deliciously portable prost!
Lisa Morrison has been writing about beer for nearly 20 years. She also owns Belmont Station, a well-known bottle shop and taproom in Portland, Oregon.
---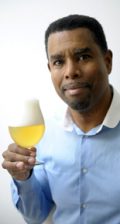 Snap! goes the handsome can, and the pale golden beer tumbles bright, the foam bouncing up. The aroma is sweetly malty with just the faintest whiff of sulfur (I like that. … It smells like a brewery). Light floral hops bloom over the malt. The bitterness is nicely focused, the malt holds firm and dry through the center, and the whole thing glides into a short, clean finish. A great pilsner is a beautiful thing. In a world suddenly beset with murk, it rings true and clear. Some wild salmon, Hollandaise sauce, Mozart on vinyl, McIntosh tube amps, Harbeth speakers. And this.
Garrett Oliver is the brewmaster of The Brooklyn Brewery, the editor-in-chief of The Oxford Companion to Beer, the author of The Brewmaster's Table and the veteran host of more than 900 beer dinners in 15 countries.
---