(Press Release)
NEW YORK—HISTORY® has partnered with Newcastle Brown Ale to create a unique, custom draught beer to commemorate the third season of the acclaimed scripted series VIKINGS, which premieres Feb. 19 at 10 p.m. Eastern.
For a limited time beginning today, Newcastle VIKINGS Amber Ale will be available in select bars in 10 states (CA, CO, IL, MA, MN, NC, NV, NY, PA & SC). Bar-goers won't miss its distinctive custom tap handle inspired by the iconic hull of a Viking craft.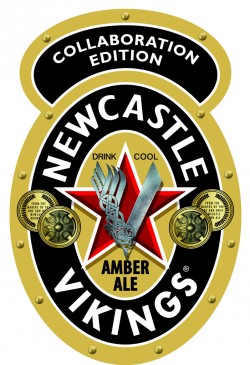 "Newcastle is the ideal partner with which to celebrate the VIKINGS in advance of the new season,"   said Chris Epple, Vice President, Marketing & Innovations, A+E Networks. "This innovative strategic alliance helps both brands extend the reach of our respective traditional audiences, and in a way that is both fun and meaningful."
Newcastle VIKINGS Amber Ale is an amber beer that owes its color to a full blend of roasted malts providing full bodied flavor, curbed by a slight, pleasant bitterness from aromatic German Hallertau Magnum hops. The beer is the second in Newcastle's Collaboration Series, which has the famous English brewer partnering with other great European breweries to deliver unique beers for Americans to enjoy. Newcastle VIKINGS Amber Ale comes from Brand Brewery, the oldest brewery in the Netherlands, founded in 1340. The brewery is in the southern-most part of the country, a region where actual Vikings are said to have roamed between 800 and 900 A.D.
"We asked the brewmaster at Brand Brewery to imagine he was working with actual Vikings breathing down his neck, to give him some motivation to brew a great beer," said Brett Steen, brand manager for Newcastle Brown Ale. "Looks like it worked because he turned out a fantastic, full-flavored ale that's sure to make any Viking a little less angry."
Original digital shorts, a national marketing campaign and in-bar advertising from both partners will support the launch of Newcastle's VIKINGS Amber Ale. Season three of HISTORY's hit scripted drama series VIKINGS returns on Thursday, February 19, at 10 p.m. ET. The new 10-episode season begins with Ragnar (Travis Fimmel) as King and follows the great responsibility that now rests on the shoulders of the former farmer. The gripping family saga of Ragnar, Rollo (Clive Standen), Lagertha (Katheryn Winnick) and Bjorn (Alexander Ludwig) continues as alliances and loyal friendships are questioned, faith is catechized and relationships are strained. VIKINGS tells the extraordinary tales of the lives and epic adventures of these warriors and portrays life in the Dark Ages through the eyes of Viking society.
About A+E Networks
A+E Networks®, LLC.  is an award-winning, global media content company offering consumers a diverse communications environment ranging from television networks to websites, DVDs, gaming, watch apps and educational software. A+E Networks is comprised of A&E®, Lifetime®, History®, LMN®, FYI™, H2™, A+E Studios™,  History en Espaňol™, Crime & Investigation Network™, Military History™, Lifetime Real Women®, A&E IndieFilms®, A+E Networks International®, A+E Networks Digital® and A+E Networks Consumer Products™.  A+E Networks channels and branded programming reach more than 350 million households in over 180 territories countries.  A+E Networks, LLC. is a joint venture of Disney-ABC Television Group and Hearst Corporation.
About Newcastle
A No Bollocks beer brand, Newcastle Brown Ale was first brewed in 1927 to satisfy the thirst of hardworking Englishmen. Colonel Jim Porter crafted the ale with its own distinct golden brown color, lightly hopped taste and character that quickly became a local favorite. Best served cold, Newcastle Brown Ale has since become a world favorite as a dark beer that's easy to drink. Newcastle Brown Ale is imported by the nation's premier beer importer, HEINEKEN USA, headquartered in White Plains, New York.
About HEINEKEN USA
HEINEKEN USA Inc., the nation's leading upscale beer importer, is a subsidiary of Heineken International BV, the world's most international brewer. European brands imported into the U.S. include Heineken, the world's most international beer brand, Strongbow Hard Apple Ciders, Desperados, Amstel Light, and Newcastle Brown Ale. HEINEKEN USA also imports the Dos Equis Franchise, Tecate Franchise, Sol, Indio, Carta Blanca and Bohemia brands from Mexico. For the latest information on our company and brands, follow us on Twitter @HeinekenUSACorp, or visit HEINEKENUSA.com.