Orpheus Serpent Bite
March 13, 2017
Orpheus Brewing
Serpent Bite
Atlanta, Georgia
Style: Dry-Hopped Sour Ale
ABV: 6%
This dry-hopped release combines the brewery's love of hops and
sour beers. It was recently made a year-round offering.
---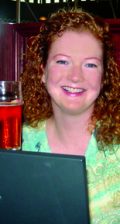 Sometimes "dry-hopped" and "sour" in the same beer description frightens me. I've had a few that miss the mark by being too much of one or the other, and with two strong, possibly competing components duking it out, your palate often suffers. But Orpheus charms your taste buds with a deftly balanced one-two punch of citrusy hoppiness and a lemony tartness. Not overly complex, this beer snakes its way between sour and hoppy without ever really being either, slithering in a touch of funkiness before ending on a delightfully dry finish.
Lisa Morrison has been writing about beer for nearly 20 years. She also owns Belmont Station, a well-known bottle shop and taproom in Portland, Oregon.
---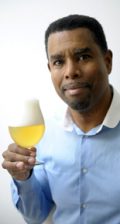 Deep yellow and translucent, this beer raises a fine white foam. The aroma is an odd amalgam of pickles, wet stone and tropical fruit (you kinda had to be there). The broad acidity is well-balanced against sweetness, with virtually no bitterness in evidence, the finish more citric than lactic. If you liked SweeTARTS candies when you were a kid, this is the beer for you. And even though it sounds like a combo with too much acid going on, trust me that this would be awesome with a Mexican-style shrimp ceviche.
Garrett Oliver is the brewmaster of The Brooklyn Brewery, the editor-in-chief of The Oxford Companion to Beer, the author of The Brewmaster's Table and the veteran host of more than 900 beer dinners in 15 countries.
---