Knight's Head Pale Ale
January 1, 2008
Miami Beach, FL
Round Table Brewing Co.
Miami Beach, FL
Available: PA, NY, NJ
This brew is mashed in at 135 degrees F and quickly ramped to 170 degrees F to produce enough non-fermentable sugars to help balance the alcohol bite that is created from our in house ale yeast.
ABV: 7
ABW: 5.6
Color: 16.3
Bitterness: 35
Original gravity: 1065
Final gravity: 1015
Malts used: two-row & two-row caramel 30 malts
Hops used: whole leaf Centennial & Type-90 pelletized Cascade
---
Aromas of citrus, grapefruit rind and melon balanced by sweet notes of caramel, saltwater taffy and honey. Similar follow-through on the palate. A somewhat gripping finish, with a tannic, hop bitterness that lingers. For me, better with food than without. (Perhaps a cheddar cheeseburger?)
- John Hansell

From the heraldic imagery on the label to the rich copper color and fruity-spicy aroma, this beer veritably screams British-style pale ale, rather than the generally paler, more citrusy American version. And sure enough, on the palate it leads with some ripe fruit — red apple, plum — before a rather gentle, even reserved hoppiness appears mid-way to provide soft bitterness and, along with some light tannins, a dry finish that's more appetizing than quenching. I like my roast beef rare, so I don't think this would be my first choice, but it should complement medium or well-done meat.
- Stephen Beaumont

---
John Hansell
John Hansell is an equal-opportunity drinker. He writes about beer, wine and spirits. He is the creator, publisher & editor of Malt Advocate, a magazine for the whisky enthusiast.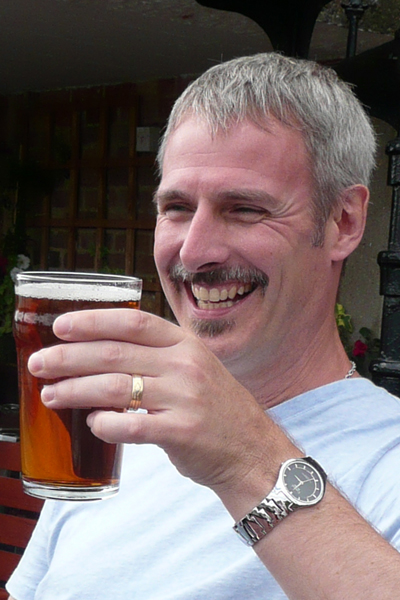 Stephen Beaumont
Stephen Beaumont boarded his first plane at the age of 15 and hasn't looked back since, obsessing about travel to the point that he gets nervous if he doesn't have a ticket or two stacked on the corner of his desk. When he's not running around in search of new taste experiences, he makes his home in Toronto, where a new cultural experience is only as far away as the next neighborhood.
Comments are closed here.