Goodwood Brandy Barrel Honey Ale
March 13, 2017
Goodwood Brewing
Brandy Barrel Honey Ale
Louisville, Kentucky
Style: Brandy-Barrel-Aged Honey Ale
ABV: 8.7%
This strong honey ale is aged many months in brandy casks.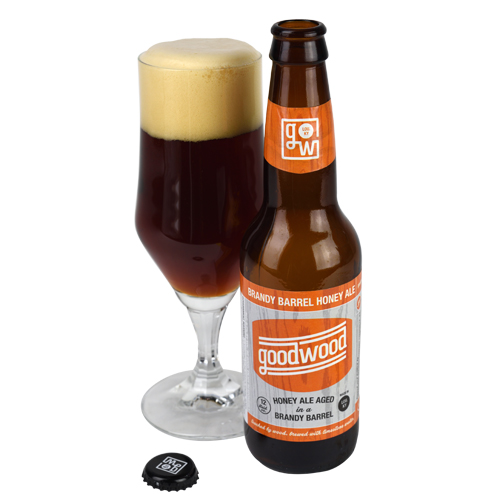 ---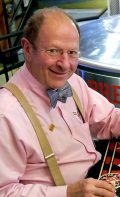 Here's a beer that Michael Jackson would have enjoyed. He wrote classic books, not only about beer but spirits, too, as the two have much in common. Goodwood brings it down home with a drink the color of honey, the flavor of malt and the soul of barrel-aged brandy. Big ecru head, spicy nose and fruity taste buzzes in my head as I consider food combinations: Oregonzola, Cougar Gold, and Off Kilter artisan cheeses accompanied by Honeycrisp apples, Goldenrod honey and a shot of gold-medal-winning Jepson Mendocino Alambic brandy, a sweet choice!
Charles Finkel is founder of Merchant du Vin and the Pike Brewing Co. Finkel is a pioneer in the marketing of beers in America.
---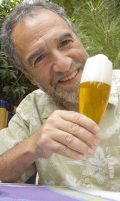 Beautifully clear chestnut brown ale. The aroma takes me back to judging supreme homebrew competition winners; brews with complexity and individual uniqueness. Delicious full-flavored "good" oxidation and wood character combine with deep notes of caramel and immense toffee. Certainly honey has contributed to the memorable personality of this divine beer. A religious experience. Not overly hopped, so the malt and complexity are brilliant. Dangerous, too—I get a clean aftertaste that keeps inviting me back. I'm in a barrel of trouble. I can't stopppppp. Worthy of the brewery name.
Charlie Papazian is the author of the New Complete Joy of Homebrewing, founder of the Great American Beer Festival and national beer examiner at examiner.com. Papazian is a leading voice in beer and brewing.
---