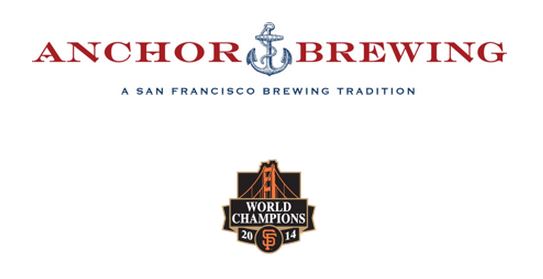 (Press Release)

SAN FRANCISCO, Calif.–Anchor Brewing Company and the San Francisco Giants announce the limited edition collaboration brew, Giants Orange Splash Lager (5.2% ABV).
On March 26, 1903, seven years after Anchor Brewing began making Anchor Steam Beer®, the team that would become known as the San Francisco Seals played its first Pacific Coast League game. Since that fateful day, Anchor Steam Beer has become inextricably linked to the Bay Area baseball experience as San Francisco's beer.
In celebration of a longstanding partnership and a 2014 Championship season, Anchor Brewing and the San Francisco Giants are proud to release an exclusive, limited edition, collaboration beer, Giants Orange Splash Lager.  This limited edition beer will only be available on tap at the Anchor Beer Garden at The Yard, Anchor Brewing Taproom and select bars in San Francisco now through the end of the 2015 baseball season.
"Collaborating with the San Francisco Giants has been a longtime dream for me and many fellow brewers at Anchor," said Anchor Brewmaster Mark Carpenter.  "Anchor Steam is San Francisco's beer, and I think it's fitting to brew one celebrating San Francisco's team.  For Giants Orange Splash Lager, we wanted to create something as unique and special as the Giants themselves.  We did this by combining a blend of Pale 2-Row, Caramel, and Patagonia Malts with Apollo, Bravo, and experimental hops.  The result is a refreshing, citrusy brew that's exceptionally tasty. It's a homerun if you ask me!"
Combining aromas of orange citrus and hoppy notes with a moderate malt bill, Giants Orange Splash Lager boasts a perfect balance of flavor.  The finish is crisp and refreshing, complemented by the lingering bitterness from hops and zest.
It is only fitting that through our partnership, we have collaborated with Anchor Brewing to create the first-ever Giants beer, said Jason Pearl, Giants Senior Vice President of Sponsorship and Business Development.  We believe that the name, Giants Orange Splash Lager, proudly connects our two historic institutions and will make fans proud to enjoy this special beer.
Fans can pick up a pint of Giants Orange Splash Lager now on tap at the Anchor Brewing Beer Garden at The Yard, located in Parking Lot A adjacent to AT&T Park, through October. The beer is also on tap at the Anchor Brewing Taproom and at select bars in San Francisco.
Learn more about the San Francisco Brews & Baseball tradition here: Brews & Baseball Video, or visit www.AnchorBrewing.com.
About Anchor Brewing Company
Anchor Brewing Company's roots date back to the California Gold Rush making it one of America's oldest breweries. Its Anchor Steam® Beer is San Francisco's original since 1896. In 1965, Fritz Maytag acquired and revived the struggling brewery at a time when mass production of beer dominated and seemed unstoppable. Maytag started a revolution in beer that originated today's craft beer movement. An undisputed icon, Anchor is America's first craft brewery where beers are handmade in our traditional copper brewhouse from an all-malt mash. At Anchor, we practice the time-honored art of classical brewing, employing state-of-the-art methods to ensure that our beers are always pure and fresh. We know of no brewery in the world that matches our efforts to combine traditional, natural brewing with such carefully applied, modern methods of sanitation, finishing, packaging and transporting.  See what we are brewing today at www.anchorbrewing.com.
About the San Francisco Giants
One of the oldest franchises in Major League Baseball, the 133-year old franchise moved to San Francisco from New York in 1958.  After playing a total of 42 years in Seals Stadium and Candlestick Park, the team moved to the privately constructed AT&T Park in 2000.  The organization is widely recognized for its innovative business practices and baseball excellence.  In 2010, the franchise was named the Sports Organization of the Year by Street & Smiths Sports Business Journal and in 2012 was named Organization of the Year by Baseball America. Since opening its gates, AT&T Park has become internationally renowned as a premier venue in the world of both sports and entertainment.  On the diamond, more than 46 million spectators have witnessed a number of magical moments, including three World Series Championships in the past five years (2010, 2012 & 2014) and five playoff appearances.  On June 13, 2012, the first-ever Perfect Game was thrown by Giants ace Matt Cain.  In 2008, the Giants celebrated the team's 50th year in San Francisco and it was the center of the baseball universe when it hosted the 78th Major League Baseball All-Star Game on July 10, 2007.  AT&T Park has also played host to some of music's biggest acts, including Beyoncé & Jay Z, the Rolling Stones, Bruce Springsteen and the E-Street Band and Green Day.  Off the field, the Giants have one of the premier community outreach programs in professional sports, becoming the first team to implement a 100 percent participation program, involving every player, coach and uniformed staff member in at least one community project throughout the season.  Through its community outreach programs, the Giants and the Giants Community Fund work with corporate and non-profit partners to raise awareness, educate and generate interest in a variety of issues important to both their fans and community including education/literacy, violence prevention, health and youth recreation and fitness.