The Art of Beer Presentations
Increase your beer knowledge with these in-depth presentations hosted by industry professionals. Admission is included with your World Beer Festival ticket, so grab a seat, have some beer and learn something new. Afterwards*, please join our presenters at the Regulator Bookshop tent and purchase an autographed copy of their books.
All presentations take place near left field in the presentation area (see this map for details).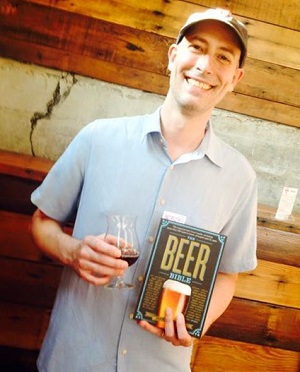 1:00 p.m. & 7:00 p.m. – Jeff Alworth
The Past and Future of Beer
Author Jeff Alworth will talk about how beer styles have emerged and how they are clues to the importance of national tradition in shaping the way beer has evolved in the major brewing countries. Styles and brewing traditions are generally centuries-old fixtures, but we're watching the birth of an entirely new national approach in the United States, which stands as a case study for the process. Book signing to follow at the Regulator Bookshop tent at 1:45 p.m. and 8:15 p.m.
2:00 p.m. & 8:00 p.m. – Mary Izett
Brewing Fast at Home
There are probably two things standing between you and homebrewing a delicious beverage: time and equipment. Mary Izett, author of Speed Brewing, will share how anyone can ferment a delicious alcoholic beverage at home, with as little as 10 minutes brewing time and a week to ferment. She'll share tips and tricks for not only speeding up your brew day but discuss a variety of other tasty beverages that are quick and easy to make. Ciders, short meads, spirited sodas and far-flung ferments are fantastic beverages to make while you're brewing, between batches or anytime you're thirsting for something other than beer. Book signing to follow at the Regulator Bookshop tent at 2:45 p.m. and 8:45 p.m.
3:00 p.m. & 9:00 p.m. – John Mallett
The Beauty of Malt
Malt is the very Soul of Beer; it provides the color, body, alcohol and much of the flavor to beer. It embodies and imparts a huge range of flavors through the subtleties of the malting process. The manufacture of malt is inherently tied to brewing and for most of recorded history was integrally part of the brewers artistry. Join brewer and author John Mallett as he guides you through the a story that is as old as civilization itself.  * John Mallett will be signing copies of Malt at 2:15 p.m. 8:15 p.m. BEFORE his presentation.
Book Signings
Support your local book store and great writing. Some of the beer industry's best writers will be signing copies of their books during the 2015 World Beer Festival Durham. Build your beer library or purchase that perfect personalized gift.
Purchase at the festival and the Regulator Bookshop will hold your books until the end of each festival session.
12:30 p.m. & 6:30 p.m. – Daniel Hartis, author of Beer Lover's The Carolinas and Charlotte Beer: A History of Brewing in the Queen City.
1:15 p.m. & 7:15 p.m. – John Holl, author of The American Craft Beer Cookbook
1:45 p.m. & 7:45 p.m. – Jeff Alworth, author of The Beer Bible and Cider Made Simple
2:15 p.m. & 8:15 p.m. – John Mallett, author of Malt: A Practical Guide from Field to Brewhouse
2:45 p.m. & 9:15 p.m. – Mary Izett, author of Speed Brewing