We are excited to present the following lineup for 2015. Our bands are all local/regional standouts, fine musicians, and they will provide just the right energy and entertainment to complete your World Beer Festival experience.
Session 1: 12-4 p.m.
Kamara Thomas & The Night Drivers: Beautiful, original Americana and cosmic country-soul with pedal steel! "Expansive and breathtaking,the songs are a cross country drive on I-80. Rusted trucks exposed to the elements on old corn farms and vacant coal mines." -Afropunk.com kamarathomas.com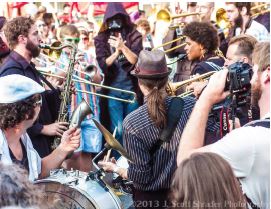 Session 2: 6-10 p.m.
Empire Strikes Brass: Empire Strikes Brass started cutting their teeth on the streets by introducing second line parades to Asheville in 2012. They have expanded from the streets to the stage with a 10 piece New Orleans brass funk band, and a groundbreaking DJ/Brass Section Set with DJ PUSH/PULL that has opened new doors to the electronic music scene. ESB includes members of Squirrel Nut Zippers, Karl Denson's Tiny Universe, Big Ol' Nasty Getdown and many other greats. Their inspirations include Galactic, Dirty Dozen Brass Band, Trombone Shorty and RJD2 to name few. The force is strong in this one. empirestrikesbrass.com
VIP Music
Ari Pappalardo: This Durham-based singer-songwiter shakes things up with his take on everything from Florence & The Machine to Creedence and Neil Young.